Rolling Ball Tack Tester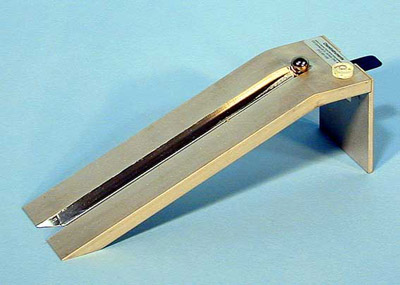 The ChemInstruments RBT-100 Rolling Ball Tack Tester meets the standards set by the Pressure Sensitive Tape Council (PSTC-6) and the ASTM (ASTM D3121) for testing the tack of a pressure sensitive adhesive.

The RBT-100 Rolling Ball Tack Tester provides a quick and economical method of testing the tack of an adhesive. This method quantifies the ability of an adhesive to quickly adhere to another surface.
TEST SPECIMEN: 15" long by 2" wide.



GENERAL TEST METHOD:

Clean inclined trough and steel ball with n-heptane or methyl alcohol. Do not touch trough or ball with fingers after cleaning; wear gloves and use a lint free cloth to place the ball at the top of the incline.

Make sure the Tack Tester is level. Arrange a test sample just removed from the sample roll adhesive side up in a straight line with the trough. The tester should hold down one end of the specimen and a weight or other tape will hold the other end securely.
Press the release lever and allow the ball to roll down the trough. Measure the distance between the end of the incline and the point where the ball stops. One 7/16" (1 cm) diameter ball is included with the TT-100.

Dimensions (approx.)
| | |
| --- | --- |
| Height: | 2 ¾" (7 cm) |
| Width: | 9" (23 cm) |
| Depth: | 2 ½" (6.5 cm) |
| Weight: | 1 lbs. (0.45 Kg) |
Options
Different size steel balls available upon request.
For more information please contact us by email (info@ichemco.it) or fax (+39-02 97243.200).
Home page: http://www.ichemco.it